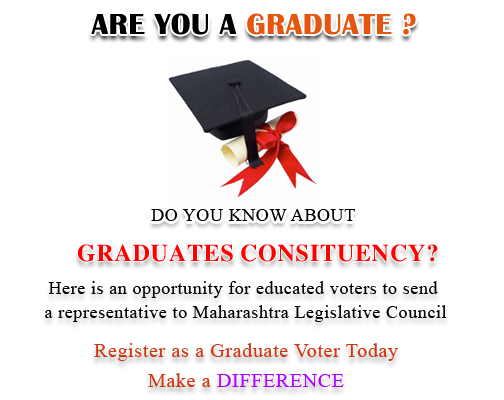 There are 7 constituencies for graduates, divided amongst the administrative divisions of Mumbai, Konkan, Pune, Nashik, Aurangabad, Amravati and Nagpur.
Last Date of Registration as a Graduate voter is 3rd June 2014.
PLEASE NOTE: This is a separate registration from your regular voter ID which entitles you to vote in assembly or parliamentary or ward elections.
To be eligible to vote, the residents of the constituency should be graduated as of  October- 2010.
The procedure for registration is as follows.
1. Click here to download Form-18 Print it. Fill it out completely and sign it.
2. Copy of your Address Proof ( One of the following: ADDHAR Card, Passport, Driving License, Ration Card, BSNL Telephone Bill, Electricity Bill,or any other generally accepted document )
3. Copy of your degree certificate attested by Gazetted Officer.